***************************************************************
THE LAST ORDER DATES FOR 2024
FRAMES, PRINTS AND MUGS IS THE 11th DECEMBER
CALENDARS, COASTERS, MAGNETS 15TH DECEMBER
***************************************************************
Paintings from the Highlands of Scotland
As an artist living in Avoch on the Black Isle, my inspiration stems from my beautiful Scottish Highland surroundings. I am known for my vibrant and distinctive use of colour which I bring to all my work. My artwork can be purchased as an original, a fine art print, or on a selection of other products. If you require a print size not listed on my website, please contact me. I sell my work mainly from my website and local outlets. I do like to meet my customers, so throughout the year I attend several craft fairs, details of which can be found on my News/Events page.
I am delighted to partner with Art of the Dram for their first edition Scotch Whisky collection, featuring six of my favourite landscapes and landmarks.
As you will see, I love what I do and if there is anything I can help you with, please get in touch with me and I will be delighted to assist you.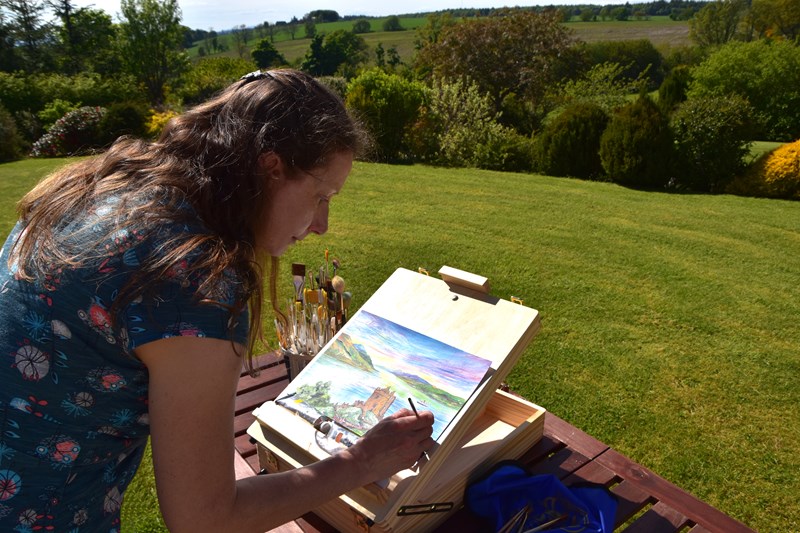 To view my small and unique, hand-painted items, please go to PRODUCTS
FINE ART GLICEE PRINTS

High-quality, vibrant giclée image. 100+ year colour guarantee.

Landscape sizes available: 12"x8"; 16"x12"; 20"x16"

Square size available: 12"x12" (*selected images)

Alternative print sizes are available, please contact me.

MOUNTED AND FRAMED FINE ART PRINTS

Mounted fine art giclée prints are surrounded by a premium, textured mountboard which will not discolour or fade with age.

Landscape print including mount sizes available: 14"x11"; 20"x16"

Landscape print with classic frame including mount sizes available: 20"x16"; 32"x24"

Square print including mount size available: 12"x12" (*selected images)

Square print with classic frame including mount size available: 12"x12" (*selected images)

Alternative print sizes are available, please contact me.

Frame colours available: Black, while brown, gold, natural.

Please note: I sell a small selection of high-quality A4 photo prints at craft fairs which are mounted in a 16" x 12" mount. These are available if you contact me directly.

Mounted and framed print examples

CANVAS FINE ART PRINTS

Finely textured 400g cotton canvas, ready to hang. 100+ year colour guarantee. Available in two depths - slim (19mm) and deep (38mm).

Landscape sizes available in 19mm and 38mm: 16"x12"; 24"x18"

Square size available for 19mm canvas: 12"x12"; 20"x20" (*selected images)
Square size available for 38mm canvas: 16"x16"; 24"x24" (*selected images)

Alternative print sizes are available, please contact me.

Deep edge canvas example

CANVAS FRAMED PRINTS

Finely textured 400g cotton canvas, ready to hang. 100+ year colour guarantee.

Classic Frame - Low-profile classic wooden frame for 19mm canvas.

Landscape sizes available: 16"x12"; 24"x18"

Square size available: 12"x12"; 20"x20" (*selected images)

Alternative print sizes are available, please contact me.

Frame colours available: Black, while brown, gold, natural.

Classic frame canvas example

Float Frame - The frame sits approximately 5mm from the edge of the canvas helping create a floating border for 38mm canvas. The simple addition of a wooden picture frame creates a completely new form of wall art; quite distinct from a standard canvas.

Landscape sizes available: 16"x12"; 24"x18"

Square canvas float frames currently not available.

Alternative print sizes are available, please contact me.

Frame colours available: Black, while brown, gold, natural.


Float frame canvas example

FRAME COLOURS

CLASSIC and FLOAT Frame Colours:

Black, White, Brown, Gold, Silver, Natural

GIFT CARDS

Photo quality print, mounted on 250gsm quality smooth textured card with envelope. Blank inside for your own message. The premium quality card can be given and framed as a gift.

Landscape - 6" x 4" print on a 7" x 5" gift card.

Square - 5" x 5" print on a 6" x 6" gift card.

Examples of 7" x 5" and 6" x 6" Greeting Cards

COASTERS

I am able to offer a selection of my paintings on two types of coasters.

Melamine Coasters

Size 10cm x 10cm.

Full colour printed coasters with a cork backing. They can withstand temperatures up to 145 degrees centigrade. Easy to wipe clean.

Melamine coaster examples

Ceramic Coasters

Size 10.5cm in diameter.

Luxury, full colour printed coasters with a cork backing. They can withstand temperatures up to 145 degrees centigrade. Easy to wipe clean.

Ceramic coaster examples

MUGS

I am able to offer a selection of my paintings on two types of mugs, the popular 11oz ceramic straight-sided mug or a 12oz ceramic latte mug.

Dishwasher and microwave safe.

Examples Straight-Edge and Latte Ceramic Mugs